Based upon my personal experience I have found that Clickbank is well know to those starting out in affiliate marketing. I started using Clickbank over 10 years ago promoting Dog books and since I started to make good money I decided to continue using Clickbank. If its the first time you have heard about Clickbank, I will make sure I help you as much as possible to get to know the basics in getting started so you know how to make money with Clickbank the best way.
What I find very common to newbies starting out in affiliate marketing is that they get signed up to an affiliate program, find a product they are not passionate about and only want to promote it because it pays high commissions and then sit back and dreaming and hoping that the money will start to flood in. This is far from the truth.
One thing about newbies is they start to sign up to programs that make all these promises about getting tons of visitors to your affiliate products, only to find out that most of the programs do not work. Next thing you know, the users start complaining that Affiliate marketing does not work and its a waste of time. Does this remind you of anyone?
Let me show you how it worked out for me.
2008 I attended an internet marketing seminar in Earls Court London UK and met a person who was hosting the seminar called Mark Anastasi. Mark shared some simple systems on how to make money thanks to Clickbank, Google and YouTube.
After attending the seminar, I couldn't wait to get home as I was excited to get started. I must admit I was sceptical to begin with however I had nothing to lose and based on testimonials I built up enough belief to follow through with the notes that I had taken from the seminar. I started promoting Dog Books to a niche of Dog lovers. To cut a long story short, I started making repeat sales of $47. This changed my life.
Mark Anastasi decided to write his first book called "The Laptop Millionaire". Mark wanted some case studies from anyone who experienced any level of success from his seminar. I responded to his email by sharing my story. Mark then asked me if I would like to be featured in his book. "I said yes please" You can find my case study on page 77 in the book.
The Laptop Millionaire went on to become a New York Times bestseller. As I continued on my affiliate marketing journey, my revenue from Clickbank starting growing so I decided to invest more energy and time in products that would help me to make more money online with Clickbank.
Staying focused has helped me to transform this income stream into something greater .
I will do my best in this post to show you exactly how to make money with Clickbank using the simple system I have put together during this time period.
Let's get the ball rolling!
What You Will Learn
What ClickBank is and how to use it to make a ton of of dollars on a monthly basis
How to select ClickBank products to promote
The most common ways to promote ClickBank products
The funnel we use for scaling up our sales
How to build these funnels the best way
How to scale them up and take over the offer
What Is Clickbank?
Many people look at Clickbank like its just another affiliate network. But what I find unique about Clickbank is this, Clickbank is a marketplace that caters for both people who like creating products as well as affiliates, so they can bring both markets together helping them to make money together without boring complicated paperwork or agreements.
How Does It Work?
So, Clickbank is the mediator between those who create digital products, such as ebooks, video, music etc, and people who sell those products, i.e. affiliate marketers.
So its clear, depending on how you position yourself in the marketplace, Clickbank plays the roll of the two functions:
1. A Product Marketplace For Affiliates
This part is great. If you are starting as an affiliate marketer, you can get started instantly, simply create your unique affiliate links for any of the thousands of products inside clickbanks marketplace and start to drive traffic to your affiliate offers to start making money. You can view the commissions you make immediately.
There is no sign up fees to Clickbank it's free and you dont have to wait for any review. Dont hesitate to get started, take action, make moves, get your account setup.
Try it out, simply go register on their homepage.
2. An E-Commerce Platform For Info Product Owners
If you create digital products and services or you own your own products, you will be classed as a product owner, you can add your product to ClickBank's database. You do not have to handle any cash, Clickbank takes care of the whole process for you. this includes the checkout and e-commerce.
To host your own product in Clickbank, they charge you a small fee of $49.95. This is a one time activation fee, for selling your own products on Clickbank. I find this fee is a great way of keeping good quality in the database, otherwise you would most probably find all sorts of low-quality vendors on the platform.
This is great if you don't want to be involved in any technical stuff but you have to know that the platform will get a percentage of your sales ($1 + 7.5% of the sales).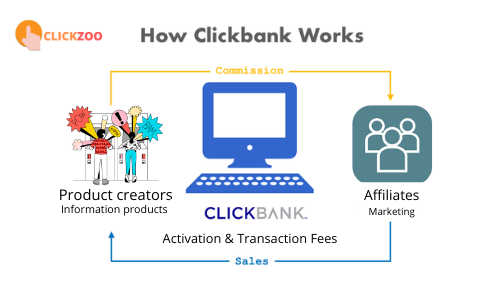 So as you start to build your business and your sales volume starts getting serious, other platforms like Thinkific or Teachable offer the same type off services however, you will save loads of money because these take 0% away from your sales.
The fee required is $2.5 payment which is a processing fee, each time money has been taken out of the account. Refunds can also be approve by Click for customer refunds and the charge is $0.50 or $1 for the service they provide.
The rise of the Learning Management Systems platforms (LMS) like the two above is make the market competitive which gives Clickbank some healthy competition, especially with covid 19 and people become more familiar to exploring online methods of learning and sales.
Why Clickbank?
Since I have been making money online as an affiliate marketer, selling digital products is a brilliant way to make money. If you sell your own products, you will have control over how much you want to sell your products for. Selling online courses from unknown producers and other digital products like ebooks and software can give you good commissions however, if you use platforms like CJ or Amazon Associates and sell reputable products you will still make commission but the commissions are commonly smaller.
Now online education is a massive market. Clickbank alone makes around a quarter billion dollars in sales revenue on a yearly basis.
plus, one great thing about digital products is this. You make the highest profit margins possible. Why? Because, making a copy of a video or an ebook and selling it, costs nothing at all.
This means that you make 100% in profit (outside of marketing costs) how cool is that!.
High profits = high affiliate commissions. And Clickbank pays up to 75%.
Pros & Cons Of ClickBank
I've had no problems with Clickbank and I have received my checks on time all the time and with it being so simple to get started, I think it's one of the best places for new affiliate marketers when it comes to get started to earn money online without the barriers often presented by other affiliate networks. There's no restrictions, you don't need to be approved for almost all of the offers and you can start selling from day one.
To me, that's the game changer and a big benefit for beginners getting started with no track record to show to other affiliate networks who need to see some sort of history.
Here is a quick list of the pros & cons of the platform:
Highly paid offers (75% commission is common)
You can sell products in most countries
Recurring offers to sell, for ongoing income
Removes the tech
Plenty of bogus products & sales pages
Plenty of competition on popular products
Difficult to tell what does well without researching traffic
High prices associated to the e-commerce platform
Step-By-Step: How To Make Money With Clickbank
When it comes to making money with Clickbank, it is important that you use the same formula to have good success.
Make sure your product is proven and tested so that customers will want to create a funnel to convert the traffic, then you gradually build up your traffic, optimise your funnel, and once you start making profits, for example, (you convert dollars more than you invest dollars), you start to scale up the whole campaign. Here is an example of the process..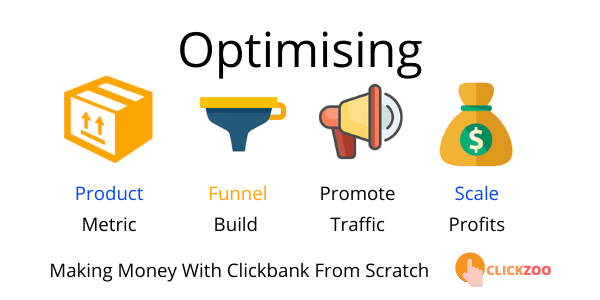 Look at how simple it is, however, many people make it so complicated. 90% of affiliate revenues come from 10% of affiliates, so make sure you are about quality as good work pays off at all times.
Let's get the ball rolling by picking a product.
How To Pick The Right Product To Promote
So based on my personal experience I can confidently say that affiliate marketing has got to be one of the best ways to make money on Clickbank. If you promote pages that have already been optimised, it will help you build your sales funnels more effectively.
Doing keyword research for Search Engine Optimisation, making sure you pick the right product to promote on ClickBank is extremely essential. You could consider yourself to be really good at promoting, the bottom line is this, driving traffic to a sales page is not enough, you will not make much money unless you have good conversion.
I have created a short video of me going through the ClickBank affiliate marketplace to find tasty products worth promoting.
The Different ClickBank Metrics
Avg %/Rebill: % of rebills paid to the affiliate, on average.
Initial $/sale: The average amount of money affiliates make per sale.
Avg Rebill Total: Average $ affiliates take as a commission as a result of rebills.
Avg %/sale: The % of the sales price affiliates take as a commission on average.
Grav: Gravity, the number of affiliates that sold this product in the last 12 weeks.
What Is A Great Product To Promote
Scanning offers is a major part of learning how to make money with Clickbank. Here are some things we look for when it comes to scanning offers to promote:
Low-cost initial offer with up to 3 upsales
Gravity above 20 (means that the page converts fairly well)
Products with good reviews online (low refunds = more money and less list burnout)
Video sales pages & "native" sales pages (pages that feel like content)
How Everyone Tries To Make Money From ClickBank
If you check out other affiliate marketing blogs, you'll see loads of "systems" on how to make money with ClickBank. Some of them work and some of them don't work. It pays off big time when you find what works.
The problem most of these systems have, is that they have very limited preselling. People are sent straight to the sales pages without knowing good details about anything like why the page is there in the first place.
Preselling is MASSIVE. You need to build trust by giving people good reasons for why the product is going to be right for them and if you can be that provider giving a good review, you will boost your conversion rates frequently. (That's what Clickzoo are all about) chukle chukle.
Note: Repeat exposure to the offers reinforces the strength of a product which works a treat for us. I will elaborate about that later on.
Let's summarise on the most "common" ways people make money with ClickBank before I let you in to the treasure chest.
Direct Linking / Banners
Yes you've seen these everywhere. Extremely common yet least profitable. This tactic is straight forward. Get an article that's related on your website and place a banner on the sidebar, middle or top of the article, without any pre-selling about the product.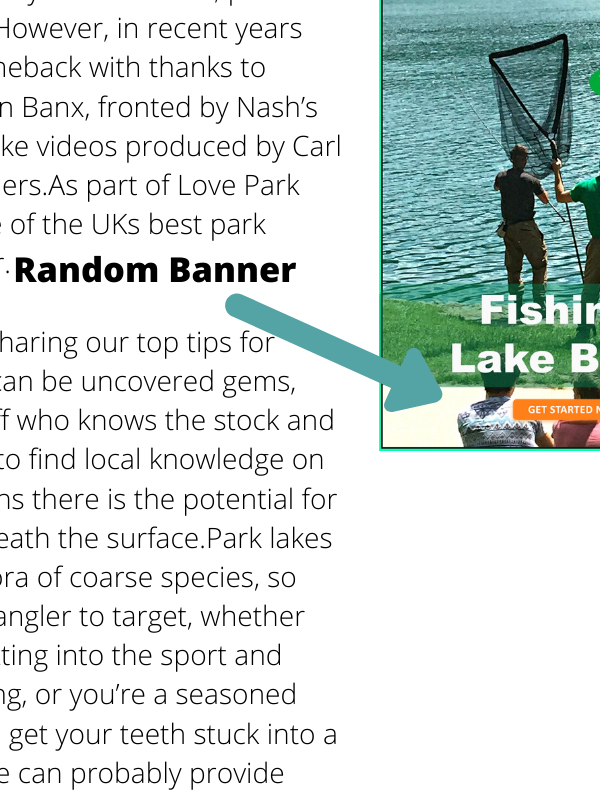 With the traffic being related to the offer, some people will get conversions. However, your earnings per click aka EPC will be low because the product is not endorsed by the actual author.
In Content Links
Inside content, you generally find links are in line recommendations that are embedded inside the text. The recommendation often comes from the author and if trust has been built in the article or post, you will find the conversion rates will be rather splendid.
I can say, they'only get the attention of detailed readers. This does build trust with the reader and Author but when it comes to click incentive there isn't much to click through.
Reviews
Whenever I see reviews, I look at the product user and there experience and reputation. i also look for information relative to what I need from the product/service. This tactic is evergreen and is still used to this very day. This is why: it gets results! Review traffic is laser targeted and the buying rate increases on average 70% when landing on your page.
If your review has good and bad points, you build more trust leading the buyer to click your affiliate link to purchase the product.
Read more: How to write product reviews that sell without being corny.
With reviews the challenge is to get the volume of traffic needed for you to make plenty of sales.
Traffic on review keywords is very competition,low and challenging. Almost everyone attempts to make money online with reviews and you will find yourself parked in the middle of a negative SEO battle, for drips and drabs of traffic.
Not recommended , if you're attempting to build a long term platform. plus, there's no other way to scale than to produce more quality reviews because there just isn't plenty of traffic out there for each product review making it difficult to grow faster or use paid traffic to rise things up.
Building A Value-Oriented Media Funnel
Every method we talked about before work to some degree but they're usually exhausted and rinsed out by everyone in the industry. This makes it extremely competitive and difficult to scale unless you own a website with a ton of reviews.
Plus, no one shares or links any of the content mentioned above reason being it just sells and people do not like linking or sharing content that is selling something to its readers. It's just how it is.
Not having content that can be being linked or shared is a big obstacle in today's world of social media. So paying or producing all of your traffic is the solution and if you ever want to appear in Google, you'll have to invest plenty of hours doing link building. Very time consuming and labour intense.
Question: How do you stay shareable whilst generating sales? Solution: Give away free stuff and add good value in the marketplace.
So, how to make money with Clickbank then? Sell to the people that wanted more free stuff and gave you their email in exchange.
You keep your front end tidy of ALL sales pitches. You operate it like a company that offers free content to the readers.
Then offer your readers lead magnets through upgrades in your content, re-targeting and also pop-ups. The benefits of lead magnet offers are you can give more free stuff out to those who genuinely need you content enough to trade their contact information for it.
ONLY THEN do you start to link the offer from the thank you page and start emailing people about the offer so you make sure they don't get missed out on the offer.
But hold on! If my offer is only shown to those who opted in am I not losing out on sales?
Well, if someone is not bothered to care enough about the topic to give you their email address, they probably won't pay for it.
Here is an outline of the system we use: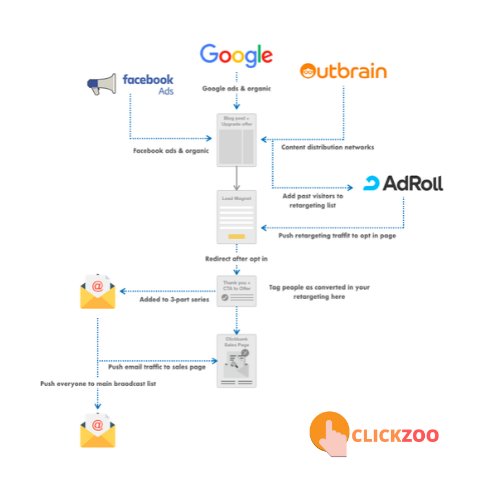 This system is rated best out there, these are the following reasons:
You keep your front end tidy of commercial offers which means you can get loads of links/shares etc.
You can target viral topics or high traffic keywords related to the problems the offer solves which means there's 0% traffic problem.
It can run 100% without Pay Per Click
You're building an email list which means that you own the audience. so you can sell things to them once they reach your main list with no restrictions, and the value of your media property is greatly increased and multiplies over time.
Let's delve into each element of the funnel and how you can do each of them:
1. Traffic & Content
This one is easy. If you add value only content, finding links using these tactics and finding shares is simple. There are 3 main ways I highly recommend you to go after traffic:
Facebook: Almost all audiences are on Facebook nowadays and you can get traffic on the cheap. I recommend this method by Digital marketer or to develop a big fan page, engage it and pull in traffic through organic reach (case study coming keep your eyes open).
Content distribution networks: I have a lot of experience with these and if you look at Outbrain and Taboola you can see this is very successful. This works well if you're covering a wide subject issue.
SEO: If you're going to create content, you might as well optimise it for search engines. If you need more info on implementing SEO for your authority site I recommend our free authority SEO course (see what I'm doing here?).
Remember this. Make sure you keep the content tidy of promotions (apart from your opt-in), give value, establish yourself as an authority figure and don't fall for the bait of greed. That will set you apart from 99.9% of affiliates.
2. Opt-In
Create complementary content to the article. For example, if the article is a list of tips, create 3 more tips that people can download and share. This can be more ingredients or anything that is relative to the content. By doing this , the people that were engaged enough to read until the end will most likely want to trade their email for more.
To distribute this lead magnet I strongly recommend you look into these 3:
Content upgrades – They're a brilliant final call to action at the end of your content, difficult to miss alongside the pop-up. It's also very cos effective to set up. Read more on content upgrades.
Retargeting + Opt-in page – If people didn't take up your offer on the site, maybe they had other things to do. Add them to a retargeting list on Facebook and then send them over to an opt-in page to download the bonuses.
Opt-in pop-ups – They are awesome. We collect hundreds of emails daily with those. Read more on opt-in pop-ups.
To put all of these together, Thrive Leads (review) stands out to be the best. However Elementor PRO as a site builder have a great pop-up / opt-in builder built in.
3. Thank You Page & Offer
Now that people have chosen to opt in, you need to redirect them to a thank you page where you can (finally) promote your offer.
While promoting the offer extremely important, it's also important to "bridge" the offer with the lead magnet they just opted in for. if not, people will be frustrated and think they need to pay for the free lead magnet. This is a common mistake people make!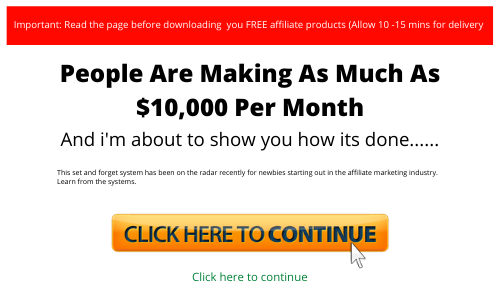 Note A retargeting pixel has been place on this page to set up a negative audience and not advertise the lead magnet to those who already opted in.
The next step is to explain to people what the benefits are about the lead magnet, and what they've downloaded is incomplete and why they should take the offer you present along with it, to maximise the results.
In this case, people download an Affiliate Marketing book but we explain to them that without the 30-day plan, they won't reach very far and achieve what they want.
Notice that the call to action is to "continue" is an assumed agreement term meaning we're not telling them anything is for sale yet. That simply means more clicks to our sales page leading to more sales.
A basic version of these landing pages can be built with Gutenberg but I strongly recommend Elementor (Review) or Thrive Architect (Review) for it, with the drag & drop editor you can create these in seconds.
4. Email Marketing
This is where the fun starts to happen. Compared to people that are throwng traffic to a sales page once with no chance to see those visitors ever again, you have their contact details in your mailing list!
Note: If you don't have an email marketing service yet, I highly recommend Getresponse for affiliate marketers, Its the best choice for affiliate marketers.
Having your mailing list in place means you can expose them to the offer again in case they chose to not buy. Take your time to convince them that it's what they need (and you know it is because they downloaded the related lead magnet in the first place).
When you get started, I recommend to only set up a 3 part autoresponder. It's enough to know if the offer is going to work or not. Here's how I break it down:
Email 1 – Features & Logic
In the first email, I first send them the link to the lead magnet a second time (the perfect excuse to email them) and ask them if they saw the offer (affiliate link).
That's when I give a bullet point list of why I think they should get it as well as maybe 1 testimonial to give it credibility and start moving into the emotional realm. I'll usually finish up with a question, opening a loop making them eagerly want to open the next email.
Email 2 – Emotions
In the second email, you email them to answer the question you asked in the previous email and start (excuse for the email).
Then you go on and help them visualise themselves having solved the initial problem and all the possible things they could experience when it is solved.
In the case of weight loss, for example, it could be:
Being more attractive and finding your life partner
Not being ashamed when people look at you anymore
Being more energetic / being able to do more
Not dying early
Simply elicit positive emotions of all the great things that could happen and link it back to your product.
Email 3 – Scarcity
In the last email of the series, you must push people to take action right now. This is when you use a selection of limited time offers (bonuses, discounts etc if available with the offer) and make people feel guilty for not taking action.
You can use sentences like: "Insanity is when you do the same thing over and over and expecting different results" or "For things to change, you have to change".
This is the time to make sure the product actually works. If I convince someone into buying a product that actually helps them make £10,000 per month and live a better life, I'm glad I did it. If you convince low-income people to buy a rubbish product and they lose money, faith, hope, and trust, you're not a great person.
These sales tactics are extremely powerful and do the job but you have to have good ethics when using them. Remember, we want to sell UNLIMITED AMOUNTS of things to our prospects so the first product better work! Really adding value helping people makes you more money.
If you want to really build real scarcity, you can use a tool like Deadline Funnels and actually open and close the offers for your subscribers.
Its a true fact, limited access increases sales dramatically so if you want the best results, I highly recommend you open and close the offers as a product launch to your list. Deadline funnels allow you to do just that, you have the option to add a timer on top of the affiliate sales page.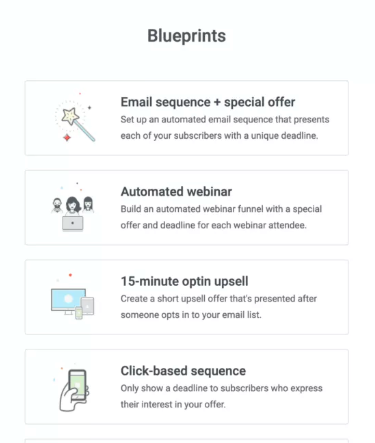 If you're thinking this is a load of work, and it really isn't, then picture how happy you'll be when your daily emails go out and you see money raining down in that way (wait, was that visualisation or what?).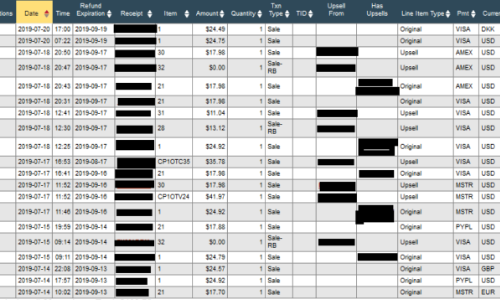 Once people have looked through the 3 part autoresponder, simply add them to your main broadcast list and email them your next pieces of content. If they're interested, they'll opt in and enter a new mini sales funnel.
This is a brilliant way to not destroy your email list while constantly selling. Those who have not opted in never get sold to at all, not until they are interested in downloading your lead magnet. at this stage, you're seen as a brilliant value giver since your front end is always adding true value.
5. Retargeting
Unfortunately, this option is becoming ever so popular so my enjoyment level has dipped dramatically.
Using retargeting services like Facebook, allows you to create audiences of people who are visiting your website (minus those who opted in from the site) and advertise lead magnets to them for approx 30 days.
This is a simple process and after a bit of optimisation, you can let it run as people get out of your retargeting list after the 30 days have passed . This means you don't run into tiredness nearly as much as you would do running traffic campaigns.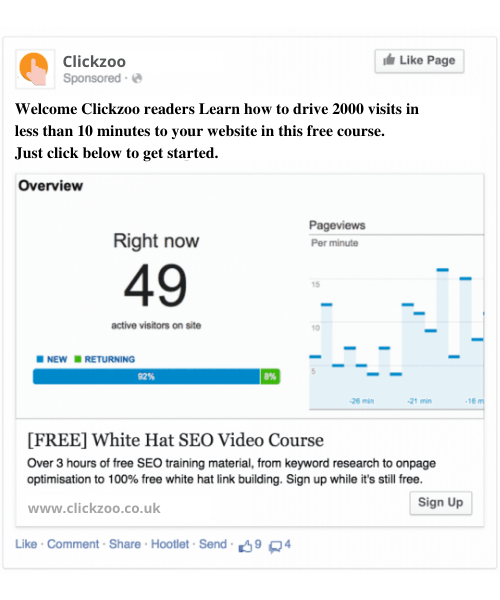 Send that traffic to a squeeze page. Your followers will know who you are and you can gain as much as 70% opt-in rate with some headline alterations. Here's an example of opt in page (I created it with Elementor Pro) I send traffic to the free webinar we offer on this site.
Creating Your Affiliate Links & TID's
To find out where your conversions are coming from (Which E-mail, Facebook ad or blog post), the best practice is to create a new affiliate link every time you put a link somewhere. This way, you will be able to track which emails/pages convert well and which convert not so well.
When creating a tracking ID, when you create your link simply add it in the "Tracking ID" field as shown in the screenshot below.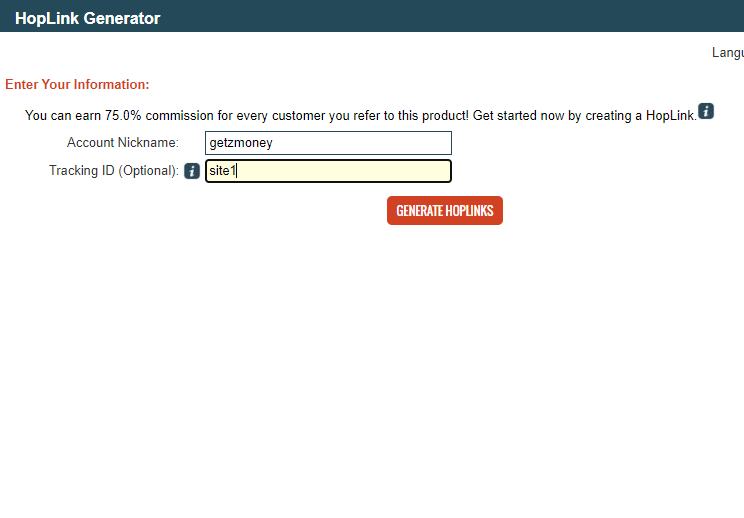 Scaling
Well done. Now that you've taken action and built the initial funnel, give it time to run for a little while. It would be good for you to start building your second one and after a while, decide if it's worth investing more time on it.
If your funnel is generating sales and you would like to expand it, pick one area and expand it. These include:
Creating more SEO content around more keywords connected to the product you're selling.
Using paid social to help grow the traffic to your content.
Expanding your autoresponder from 3 to 12-15 emails to increase level of sales.
A/B split test your pop-ups and opt-ins to increase the opt-in rate.
Link building your current content to improve its rankings.
Owning The Offer
When you've reached a certain scale, you should already be making a few thousand dollars on a monthly basis. At this stage, it's time to start considering switching the affiliate offer with your own unique offer.
This will allow you to keep all the money coming in and control things such as:
Being able to purchase traffic directly to your sales pages
Have affiliates make money for you by promoting your product
The upsales
The sales page
It's not that simple and it's not something I would personally consider doing if I had little to no traffic and no revenue. But once you have proven you can get people and sell them information products, this is by far one of the best ways to grow your own revenue.
At that stage though, I would suggest solutions such as Thinkific or Teachable for selling your own courses or info products.
They are just easier to start with, have existing database of users, more up to date and cost effective to use as you grow (Thinkific even has a totally free plan where they take a tiny % of your sales as Clickbank does).
To Wrap It Up
So as you probably have thought, the scope of this strategy is a bit larger than just ClickBank on its own. ClickBank is a brill, simple place for starting out for real sales.
It generates much more revenue if you commit to making it work.
You can take advantage of these other affiliate programs or even for your own products to promote. Be cautious, as offers do occasionally get pulled from time to time which means you will have links that need replacing. Make sure you have a backup offer in case this happens to you (or you're ready to make a backup yourself).
I hope this tutorial has inspired you to leap out of the "easy" monetisation methods and showed you that it is possible to build a long term profitable property, be seen as a value adder and authority figure and yet make money with Clickbank. If you have any questions, let me know.